10 reasons why you should invest in office graphics
Insights | Posted on 15/06/2023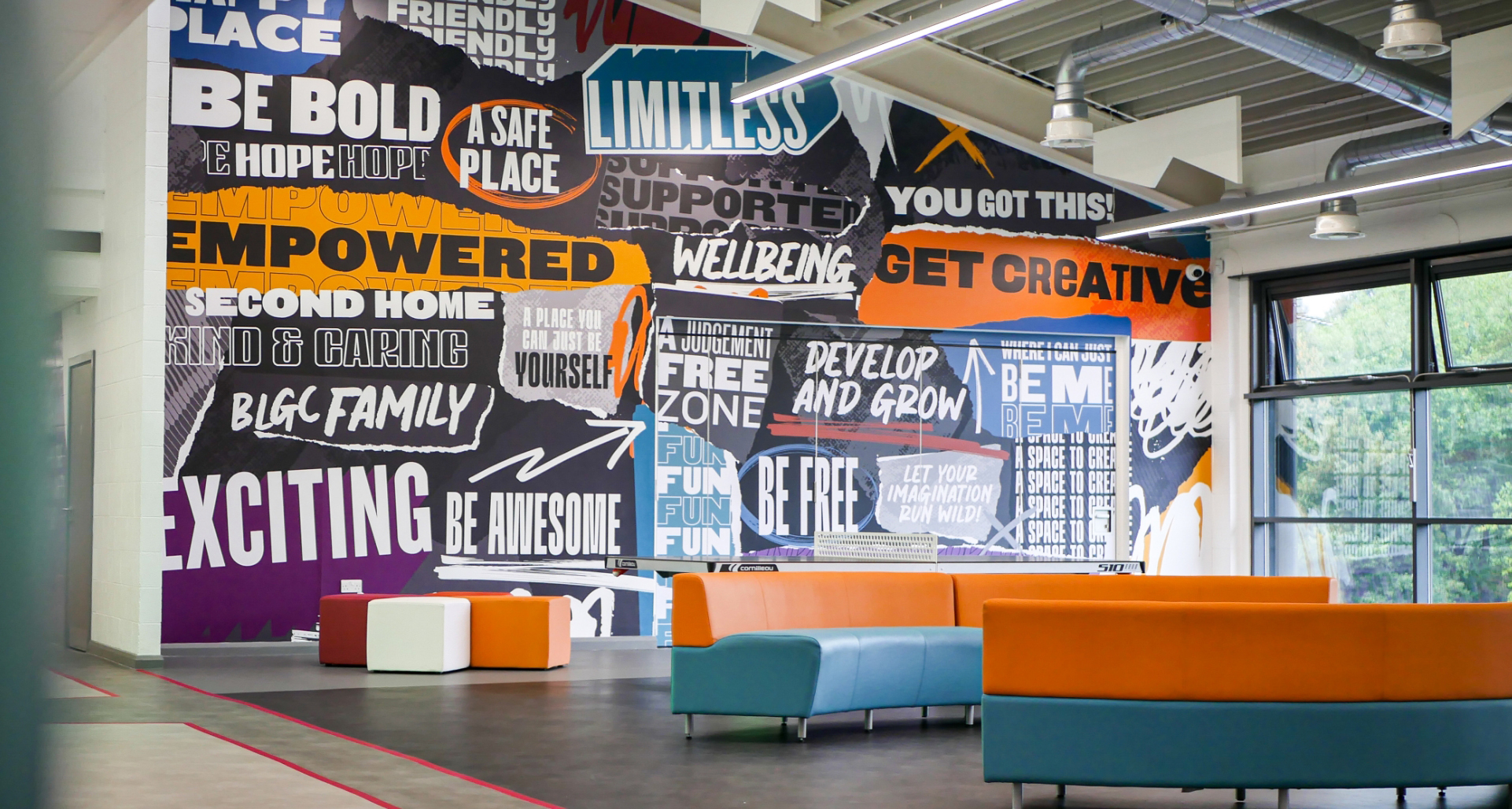 10 reasons why you should invest in office graphics
1 . Walk the walk
Tell your clients, staff and suppliers that you believe in your company. How better to show your commitment and gain buy-in to your company's vision & values than by broadcasting it around your own environment.
2. Spread the love
We're all very good at rolling the red carpet out for clients, and so we should. Look after your clients most certainly, but show the same love and attention to your team. Don't stop at your reception and meeting rooms– make your whole workspace a unique and engaging environment for your team to succeed in. Even better, your clients will love that you have too.
3. Your 3D World
In our ever increasing digital world, your office is often the only remaining physical touchpoint of your company. Quite rightly, everyone is full steam ahead designing for digital, from websites to social graphics and videos– but nothing brings a brand to life and tells its story better than in a 3D space. Take the opportunity to fully immerse your visitors in your brand, culture and values.
4. Beyond the walls
As an owner of a business I know that every investment has to be carefully considered. So it's worth noting that one of the surprising results from our office graphics projects is how hard they work beyond the offices themselves. They always become a background to every social post, make for great unique photos of your team and business, essentially becoming a part of your brand wallpaper. Plus, our clients are always left with a set of patterns, graphics and illustrations that can be used in all their marketing collateral.
 5. Finishing touch
We all acknowledge the importance of perfecting the brand journey from start to finish. Making sure every detail of the customer journey tells our story, sells our offering and converts. Whether that's online or through other channels, we all pay attention to every touch-point, right through to our employee journey too, investing in recruitment and on-boarding. Don't disappoint on the final hurdle, you've got them to your door– now exceed their expectations.
6.Bouncing off the walls
A happy team is a productive team. Provide a modern, fresh environment to work in and see the smiles appear on their faces. No breaking news here, but what I find better than anything is the extra spring in the step of the senior team and business owners our projects create. We all know this spirit will descend through your team and ultimately rub off on your customers.
7. It doesn't have to cost the earth
No office is the same and with so many print and production options, there really is something that can be done for all budgets and briefs. Don't see it as only affordable for large companies. Just make sure you do something– employee branding and engagement is not a fad, it's here to stay, keep ahead in your recruitment drive. Property isn't cheap, make the most of the space you pay for.
8. Talk to your team
Your workspace is the biggest opportunity to communicate to your team. It should always be about creating a space that is aesthetically appealing, motivating and a great place to spend your day. But there's an opportunity to deliver direct comms and guidance too- look beyond emails and intranets and embrace the physical world as an opportunity to talk directly to them and aid their learning and development. We've lots of examples and ideas of how we've made these areas interactive and engaging.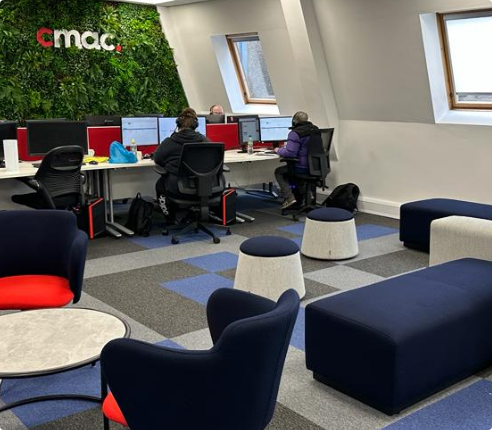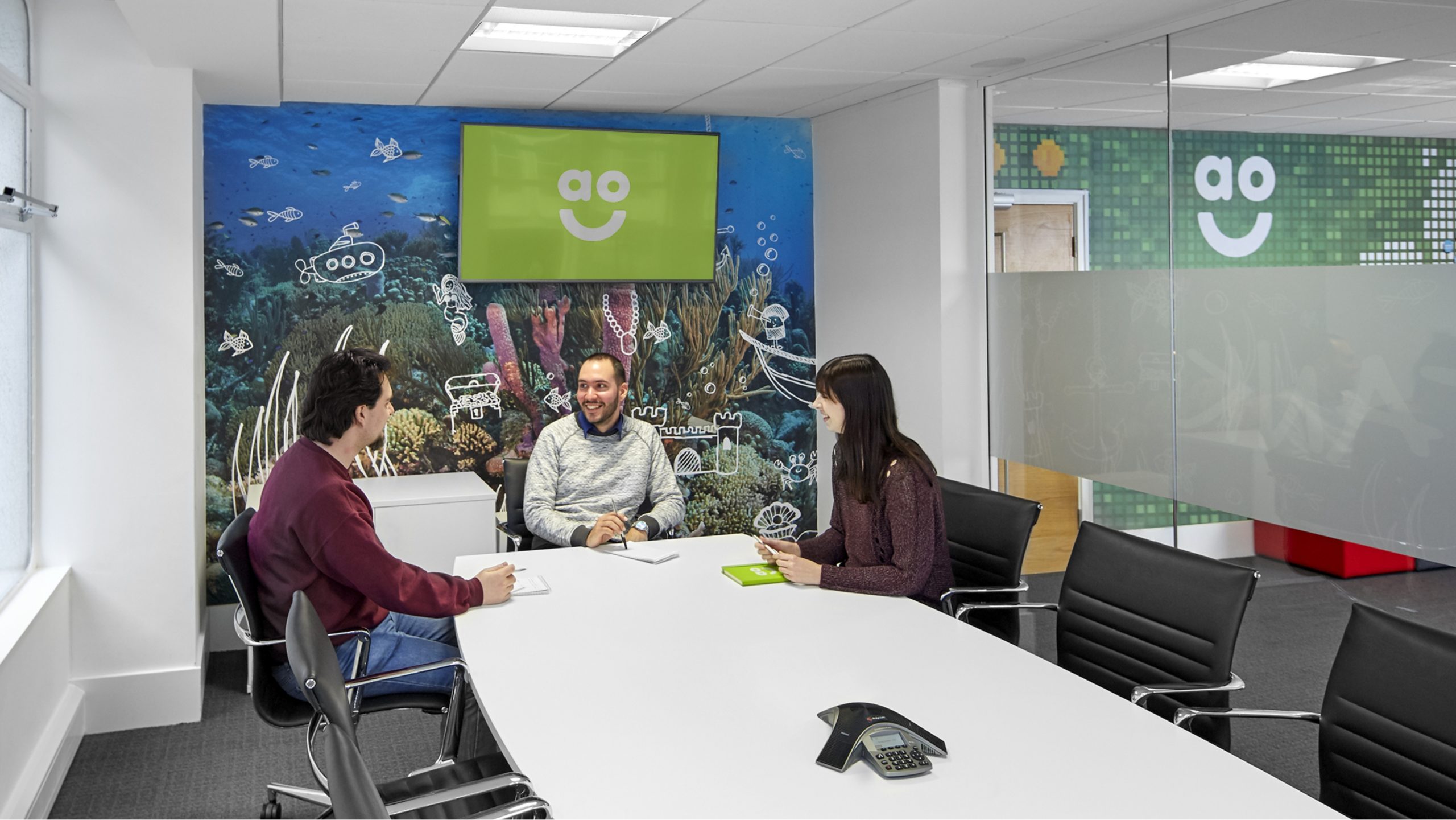 9. A great process
It will give you the chance to write your values and align your culture. Many of our projects have created some valuable take-aways to form part of your company brand guidelines & culture books. This is more than just interior design, it's a chance to really think about why your office exists and its purpose and use. Use graphics to zone your workspace, tell a story, show off your strengths, involve & interact with your team, and create something unique to your business!
10. Bring everyone together
Whether you're a multi-site business or a single space with various teams and departments, they should all be pulling in the same direction and hang off one culture. Create an environmental DNA that aligns everyone. Tell your story in your space.
On the back of delivering office branding projects over the years, I've seen first hand the positive impact and reactions from the team and clients, so I hope this offered some insight as to why it's a great investment.
Please get in-touch if you'd like to discuss how we can improve your space. martin@arenacreative.co.uk